Lahaina Airport
On October 6, 1941, Act 35, SLH 1941, appropriated $5,000 for an airport in Lahaina. Due to the onset of World War II, the funds were never expended.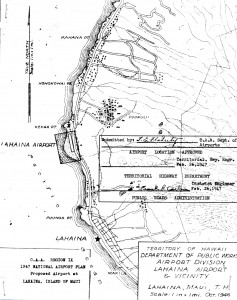 In 1947 the Territorial Superintendent of Public Works again proposed construction of a Class I airport at Lahaina.  The proposed airport was to be located at Hanakoo Point three miles north of Lahaina.  For most of the residents of Lahaina the port of Kahului and Maui Airport were approximately 45 minutes distant by automobile.
"It is believed there is unusual justification for the proposed airport," reported the Superintendent of Public Works.  "Although large aircraft could not be accommodated several non-scheduled operations would undoubtedly give the district the benefit of competitive service in smaller planes, thus residents could reach Honolulu in the time now required to drive to Maui Airport.
"The site is ideal as an emergency airport near principal lines of flight and for the protection of single-engine planes experiencing difficulty during channel crossings.
"Construction of the airport would encourage private flying. It is reasonable to estimate that within three or four years a dozen or so private planes would be based at the field. Responsible operators have indicated interest in the airport proposal."
In December 1940, the Territory filed an application with the CAA under the 1940 National Airport Act for an allocation of funds for the proposed airport but on account of war conditions there was no further action.
The CAA Region IX approved the proposed airport at Lahaina as part of the 1947 National Airport Plan.
No further action was ever taken by the Territory to construct the airport.
Terms & Conditions
Please read the following Terms & Conditions of Use carefully before using this website. You are required to expressly accept the following Terms and Conditions of Use, without any modifications, prior to each use of this website. The State of Hawaii Department of Transportation Airport Division (the "HDOTA") may revise the Terms and Conditions of Use without any specific notice to you. The Terms and Conditions of Use posted at the time of your use of this website governs that use. If you do not agree with any part of the following Terms and Conditions of Use, you will not be permitted to use this website.
The images and other content, (the "Media"), on this site, http://aviation.hawaii.gov, are protected under applicable intellectual property laws. Unless otherwise stated, intellectual property rights in the website are administered by HDOTA on behalf of itself and the State of Hawaii.
FOR MEDIA USE PLEASE NOTE:
You are prohibited from using the Media for any commercial purpose. Any use, whether or not commercial, that may tend to degrade, tarnish the reputation of, or embarrass the content creator (photographer, videographer etc.), the State of Hawaii, or HDOTA is strictly prohibited.
FOR ALL USE:
The following are general examples of what Media may not be used for or in connection with. The following list is not exhaustive.
Taking or attempting to take Media for commercial, marketing, self-promotion, or novelty applications;
Taking or attempting to take any action that results in editing or altering images -cropping is acceptable;
Taking or attempting to take any action that compromises the website;
Taking or attempting to take any action that involves reprinting on coffee table books, garments, posters, mugs, or any medium.
You agree that, upon notice from HDOTA, you will immediately cease all use of the Media and, to the extent possible, remove all Media from any and all materials in which they appear.
Credit is required for each of the Media as specified on this website. Credit must be placed adjacent to any use of the Media.
You, your successors and assigns, agree to release, indemnify and defend HDOTA and the State of Hawaii from and against all costs, liability, loss, damage, and expense, including all attorneys' fees, and all claims, suits, and demands therefor, arising out of or resulting from your acts or omissions under these Terms & Conditions of Use and your use of the Media.