Kamuela Airport (Bordelon Field)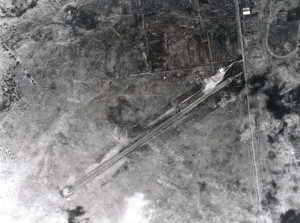 During World War II, the 3rd Marine Corps built a small airstrip near Kamuela, Hawaii, consisting of a graded and oiled airstrip 3,000-feet long on land belonging to Parker Ranch. It was designed for use by liaison aircraft in connection with their training operations in Hawaii. This facility was known as Bordelon Field.
The field was named for William James Bordelon (December 25, 1920 – November 20, 1943), a United States Marine who served in combat during World War II.  During the Battle of Tarawa, he was killed in action while he led the assault on the enemy and rescued fellow Marines. For his acts of gallantry, he was posthumously awarded the United States' highest military honor — the Medal of Honor. He was the first U.S. Marine from Texas to be awarded the Medal of Honor for action in World War II.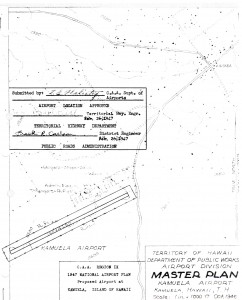 In order to provide air service to the Waimea district after the war, the area on which this airstrip was situated was leased from Parker Ranch by the Hawaii Aeronautics Commission and renamed Kamuela Airport by Act 32 of the 1947 Legislature, effective July 1, 1947.
The 1947 Territorial Legislature appropriated $60,000 for the development of this field, but the construction necessary to develop a field in this area with sufficient length to meet scheduled airline operation using DC-3 type of aircraft required an expenditure of several hundred thousand dollars. Engineering studies were made to determine the most economical method whereby a field could be constructed in this general area which would conform to scheduled airline operating requirements.
In 1949 the Legislature appropriated $200,000 for paving, grading and improvements.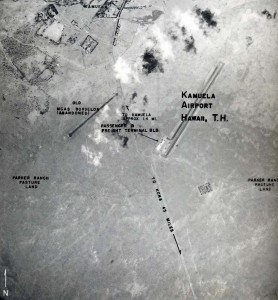 The community was desirous of a satisfactory airport in this area, not only for the convenience of the travelling public but for the transportation of produce from this area to the Honolulu market.  Extensive studies were conducted with regard to the further development of lands for increased production of farm commodities and if the community were assured of prompt delivery of its goods to the local markets, the air freight carriers alone would be the major users of this field.
The HAC approved $58,000 for repairs to Kamuela Airport in July 1950. The HAC agreed to an extension of the lease for Kamuela Airport beginning November 4, 1950. Approval was also given to make repairs to the runway.
In 1950 Kamuela Airport was deemed unsuitable for development as a modern airport. Studies of terrain and weather were conducted to find a suitable site for a new Kamuela Airport.
Repairs to the old Kamuela Airport were completed and the airport reopened on December 22, 1950.
In January 1951, the field runway was widened by 16 feet and completely resurfaced at a cost of $17,198.  Office space was rented to Cockett Airlines at a rate of $1.00 per square foot per annum, which conformed to the rate charged at Port Allen for like facilities.
Act 63, SLH 1951, approved May 10, 1951 ratified an agreement between Hawaii County and the HAC to provide the labor and materials necessary to repair the surface of the airplane landing field. The HAC would reimburse costs.
On October 22, 1951 the HAC approved a sum of $728,000 for the development of a new runway at Kamuela to accommodate freight planes and Convairs.
The airport was served by daily (except Sunday) scheduled freight flights and non-scheduled passenger planes in 1951.  It did not meet the requirements for scheduled passenger service.  The airport ranked very high in the Territory as pertains to amount of freight shipped by air. Routine maintenance and custodial duties are performed by one full time HAC employee.
Kamuela Airport was inactivated in August 1953 due to the opening of the new Waimea-Kohala Airport near Kamuela town.
Related content
Terms & Conditions
Please read the following Terms & Conditions of Use carefully before using this website. You are required to expressly accept the following Terms and Conditions of Use, without any modifications, prior to each use of this website. The State of Hawaii Department of Transportation Airport Division (the "HDOTA") may revise the Terms and Conditions of Use without any specific notice to you. The Terms and Conditions of Use posted at the time of your use of this website governs that use. If you do not agree with any part of the following Terms and Conditions of Use, you will not be permitted to use this website.
The images and other content, (the "Media"), on this site, http://aviation.hawaii.gov, are protected under applicable intellectual property laws. Unless otherwise stated, intellectual property rights in the website are administered by HDOTA on behalf of itself and the State of Hawaii.
FOR MEDIA USE PLEASE NOTE:
You are prohibited from using the Media for any commercial purpose. Any use, whether or not commercial, that may tend to degrade, tarnish the reputation of, or embarrass the content creator (photographer, videographer etc.), the State of Hawaii, or HDOTA is strictly prohibited.
FOR ALL USE:
The following are general examples of what Media may not be used for or in connection with. The following list is not exhaustive.
Taking or attempting to take Media for commercial, marketing, self-promotion, or novelty applications;
Taking or attempting to take any action that results in editing or altering images -cropping is acceptable;
Taking or attempting to take any action that compromises the website;
Taking or attempting to take any action that involves reprinting on coffee table books, garments, posters, mugs, or any medium.
You agree that, upon notice from HDOTA, you will immediately cease all use of the Media and, to the extent possible, remove all Media from any and all materials in which they appear.
Credit is required for each of the Media as specified on this website. Credit must be placed adjacent to any use of the Media.
You, your successors and assigns, agree to release, indemnify and defend HDOTA and the State of Hawaii from and against all costs, liability, loss, damage, and expense, including all attorneys' fees, and all claims, suits, and demands therefor, arising out of or resulting from your acts or omissions under these Terms & Conditions of Use and your use of the Media.