Naalehu Airport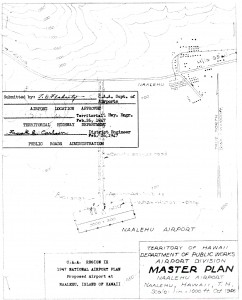 The Superintendent of the Territorial Department of Public Works proposed construction of a Class I Airport at Naalehu, Hawaii in 1947.  The airport was proposed as a unit of the Territorial Airport System primarily because of the tourist interest in the area and also to encourage private flying.
"It is believed that in the development of civil aviation in the Territory, and as part of facilities that it will be necessary to provide for the expected tourist business, operators will offer an around-the-island flight service on the Island of Hawaii," the Superintendent wrote.  "Such a service with stops at Naalehu, Kailua and Kamuela would be most attractive from a scenic and recreational standpoint, and the service could also serve as a feeder line for the convenience of local residents in flying to Honolulu via Kailua or Hilo Airports or in the conduct of their regular business in Hilo."
"The abandoned Army airfield (Morse Field) at South Point would not serve as an alternate to the proposed Naalehu Airport because it is a barren, isolated area of no tourist interest 15 miles from Naalehu, 10 miles of which is by a side road.  The Morse Field site has no value to local residents.
"It is recommended that initial construction at Naalehu be merely an unpaved runway of minimum cost.  The site is favorable for such construction. The proposed airstrip would have considerable value for emergency landings—particularly for private plane owners."
A Master Plan was prepared for Naalehu by the DPW in October 1946 and was approved by the CAA Region IX for inclusion in the 1947 National Airport Plan.
The Territorial government gave no recognition to the proposed Naalehu project and no further action was taken.