Teal
TEAL (Tasman Empire Airways, Ltd.) was registered in Wellington as a limited liability company in April 1940. Its original holdings were New Zealand Government 20%, Union Airways 19%, BOAC 38% and Qantas 23%.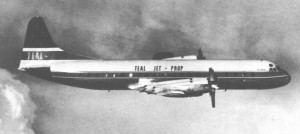 TEAL started operations with an Auckland-Sydney flying boat service in 1940, Auckland to Fiji in 1950, extending the following year to Tahiti via Western Samoa. Exercising reciprocal rights, Pan American sent its airplanes through Auckland. TEAL was originally owned by three governments: New Zealand (30%), United Kingdom (20%) and Australia (50%).
In 1953, the Australian government took over the British government's interest, concurrently with the liquidation of BCPA.
In April 1961, the New Zealand government agreed to purchase Australia's half share in TEAL making New Zealand the sole owner of the airline in its 21st year of operation.
TEAL changed its name to Air New Zealand in April 1965.
1960s HNL 132Jet service between Auckland and Los Angeles by way of Honolulu with DC-8 aircraft began in December 1965. Air NZ opened an office in Honolulu.
Other highlights:
July 1966: AKL-HNL(direct) -LAX
April 1971: Now 4 services per week AKL-HNL-LAX (plus one via Nadi & HNL )
Sept 1972: Now daily service AKL-HNL-LAX
Apr 1975: NZ-LAX service from CHC via AKL,Nadi and HNL
Sept 1978: Frst DC10 AKL-RAR-HNL-LAX service
1985: First Boeing 747 aicraft operated into HNL en route to LAX
1989: First Boeing 767 aircraft operated into HNL (AKL-Nadi-HNL service) making total of eleven long haul aircaft into the Pacific ports weekly
1994: Additional B767 services into HNL from SYD and MEL via AKL
1995: Commence codeshare flights with Polynesian Airlines from Apia to HNL using Air NZ aircraft
Source: Air New Zealand