Martin Jensen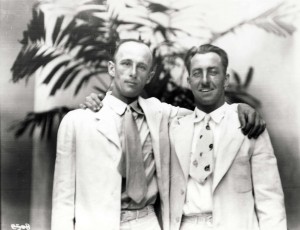 James D. Dole, president and general manager of the Hawaiian Pineaple Company suggested an air derby to encourage the first crossing by air from California to Hawaii.  He envisioned a mass flight of many planes along the route, speeding for the far-off territory.
However, the Army's successful pioneer action, followed by an incredible single engine performance by civilian flyers, pre-empted Dole's worthy purpose.  Not discouraged, his race was still on.
A National Aeronautic Association member, Dole asked the Honolulu chapter to establish rules and other flight details, to ensure that "—it may cost no brave man either his life or limb." The committee was chaired by the chapter president, Clarence H. Cooke.  He was assisted by Frank O. Boyer, Commander H. B. McComb of Pearl Harbor, Captain Lowell H. Smith of Wheeler Field, John H. Kangeter and Kenneth Barnes.
The committee was kept busy, as 33 entries came in from many places. The starting date was established as August 12, 1927. Not included among them was Lindbergh's application, to the disappointment of many race enthusiasts, but leaving the door open to a new name in aviation.
News accounts of preparations and stories on contestants continued daily in Hawaii, until the race was completed and for days afterwards.  Honolulu was afire with interest. Contestants included two from Hawaii, popular Martin Jensen and Harvey Lemeke (who bowed out later).  With his wife's active campaigning, the ALOHA came under Jensen's control. A Breese monoplane, it was christened with a bottle of Waikiki water in a splendidly Hawaiian manner, complete with Hawaiian singers and hula dancers.  Miss Ruby Smith, an Oakland beauty queen, broke the bottle amidst Hawaiian strains and dances.  Jensen was particularly proud of the painted Hawaiian flower lei which draped comfortably around the plane's nose.
On the mainland end of the Derby route, a government overseer was assigned to the race activity.  Navy Lieutenant (later Commodore) Ben H. Wyatt, a 33-year-old meteorological expert who, in 1926, conducted the successful Alaska expedition with two Loening Amphibians, was sent by the Navy Department to Oakland. He reported to Admiral T. Washington, Commandant of the 12th Naval District in the locale, then proceeded to lay on stringent requirements for participating planes and crews to weed out the unsafe.  Wyatt was concerned principally with qualification of navigators for the trip.  He set up rigid examinations.
Captain C. W. Saunders was made chairman of the starting committee.  Ernie Smith was designated official starter. The Department of Commerce sent inspector Walter Parkin.
On August 11, 1927, the race committee announced specifications for contestants to date.  They are shown below by pilot, plane, load capacity per square foot of wing area, type of engine and cubic inch displacement, and the number of gallons of gasoline carried:
MAJOR LIVINGSTON J. IRVING, Breese monoplane of the land type, 260 sq. ft. , 17.9 pounds, Wright J5C engine, 350 gallons.
FRANK L. CLARKE, biplane, 370 sq. ft., 12 pounds, Wright J5CA engine, 400 gallons.
BENNETT H. GRIFFIN, Travelair monoplane, 312 sq. ft., 18.5 pounds, Wright J5CA engine, 788 cu. ft. displacement, 420 gallons.
ARTHUR V. ROGERS, Bryan full cantilever monoplane, 340 sq. ft., 15 pounds, two Bristol-Lucifer engines set tandem with one pusher and one tractor, 467 cu. in. displacement each, 408 gallons.
LIEUTENANT NORMAN A. GODDARD, Goddard Monoplane, 283 ½ sq. ft. 17.3 pounds, Wright J5C engine, 360 gallons.
CAPTAIN WM. P. ERWIN, Swallow monoplane, 330 sq. ft., 15 pounds, Wright J5CA engine, 788 cu. in. displacement, 460 gallons.
FREDERICK A. GILES, Hess Bluebird biplane, single seater, 295 sq. ft., 16.23 pounds, Wright J5C engine, 788 cu. in., 500 gallons.
CHARLES W. PARKHURST, Airking biplane, 342 sq. ft., 12.8 pounds, Wright J5CA engine, 788 cu. in. 372 gallons.
JOHN AUGIE PEDDLAR, Buhl air sedan biplane, 350 sq. ft., 15 pounds, Wright J5C engine, 788 cu. in., 400 gallons.
ARTHUR C. GOEBEL, Travelair monoplane, 310 sq. ft., 16 pounds, Wright J5C engine, 788 cu. in., 425 gallons.
MARTIN JENSEN, Breese monoplane.  No specifications on hand at the time.
Once again, ships would be lined up at sea for marking and emergency purposes.  Along the route would be the WILHELMINA, 1,400 miles from Honolulu; LOS ANGELES, 800 miles from Los Angeles; SS MANUKAI, 950 miles from San Francisco; SS PRESIDENT HARRISON, 800 miles from San Francisco; SS MANULANI, 1,160 miles from Maui; SS INORA, 800 miles from Honolulu; SS MANOA, 1,820 miles from San Francisco The entire Pacific fleet was to be placed in readiness.  The aircraft carrier LANGLEY, two destroyers, two mine sweepers and an aircraft tender were to be in position in San Diego.
One famous race entrant was cowboy movie star Hoot Gibson, with the tri-plane PRIDE OF LOS ANGELES, flown by Captain James L. Griffin and Ted Lundgren.  To the crowd's consternation, on August 12 the plane missed Oakland airport's runway on the approach and crashed into San Francisco Bay, en route from Long Beach, California.  No one was injured but the occupants were compelled to swim for their lives.
Six airplanes and crews were disqualified one day before the race.  In the interest of safety, and to give disqualified flyers the opportunity to get back into competition, Lieutenant Wyatt saw to it that the race was postponed four days.  This drew Dole's objections but the ruling held.  On the 13th, Britain's Arthur V. Rogers took off on a local flight.  His forward-looking airplane's twin tails and tandem engines drew comments from onlookers.  At 500 feet, the plane suddenly fell into an uncontrolled nose dive.  Rogers leaped free but his parachute failed to open and he fell to his death.
Eight finalists were ready for the crucial test on August 16.  That day it was learned that entrant Frederick Giles departed Detroit, Michigan, for San Francisco, but that he intended to fly on to New Zealand in the Hess Bluebird.  Congressman W. Frank James of Michigan, member of the House Military Affairs Committee, arrived to inspect the airport. This was part of his tour of airfields preliminary to consideration of a bill appropriating funds for improvement in Army air facilities. Lieutenant George Noville, who had accompanied Commander Richard E. Byrd to France on the monoplane AMERICA, arrived to inspect the planes and facilities.
Thousands of bystanders lined the field. There were more atop buildings; and some watched from surface craft at sea.  At noon, Ernie Smith fired the starter's pistol and the race was on.
At 12:01, the first airplane became airborne.  It was the OKLAHOMA, a blue and yellow monoplane with Bennett Griffen and Al. L. Henley.  The OKLAHOMA passed the Golden Gate but then returned with mechanical difficulties.
Navy Lieutenants Norman A. Goddard and K. C. Hawkins moved their silver monoplane EL ENCANTO down the runway at 12:03.  Goddard was with the U.S. Naval Reserve at San Diego and his navigator, Hawkins, was an active duty naval officer from the San Diego Naval Air Station, on special leave to participate in the race.  Thrown off course by a side wind, Goddard managed to get about four feet into the air but then crashed to the ground at the 7,000 foot mark, completely demolishing the left wing.  The rudder had failed to react properly.  It was damaged sufficiently to be out of competition.
In third position, at 12:11, was war ace Major Livingston J. Irving in his orange monoplane PABCO PACIFIC FLYER.  He rose as high as 10 feet into the air then plummeted suddenly back to the ground, ending up in the marsh and water. Tail wheel shattered, Irving pulled off for repairs and another start at the end of the line, intent not to let down fellow employees of the San Francisco firm who were his backers.
The GOLDEN EAGLE took off without incident at 12:31 and headed west with its crew of John W. Frost and Gordon Scott. The Lockheed plane was a Vega cantilever type monoplane, cigar shaped, with a 200 hp radial engine, put in the race by George Hearst, publisher of the San Francisco Examiner.  The plane was equipped with extra heavy wheels, in addition to regular landing gear, which were droppable after takeoff.  Apart from engine and landing gear, including fuselage and wings, the plane was made entirely of strong light wood. All parts of the plane were joined by nails, screws and waterproof glue.  Manufacturers felt the plane would remain intact in conflict with violent wind-resistance or sea buffeting.  The landing gear was releasable, and the contents of gas tanks could be dumped.  Flotation bags were placed in the fuselage and at the tip of each wing which could be inflated with compressed air by the navigator, giving increased buoyancy.  Additional safety items on board were a five-passenger  rubber air raft (furnished with a large white sail, mast and mast-step, and two oars), a compass, two brightly colored kits and streamers of Japanese silk, intended to be hoisted as day signals, and Very pistols and flares for night duty.  In the navigator's cabin was an air bottle with shafts leading to the tips of the wings. In case of a forced landing, it was planned to send air throughout the inside of the plane to keep the plane from bobbing around or overturning on the surface of the water The wing extremities were made of three-ply wood on which sandbags could be placed. The pilot-house doors were water-proofed with rubber cork.
John Augie Peddlar took off in his Buhl Airsedan biplane, MISS DORAN, at 12:33.  His navigator was Lieutenant Vilas R. Knopie, U.S. Navy, and a 22-year-old school teacher passenger named Miss Mildred Doran—inspiree for the first woman passenger title.  Peddlar, wearing knickerbockers and the traditional straw hat for which he was known, got up to 800 feet then wheeled the red, white and blue plane back for a look at his malfunctioning engine.  Lieutenant Wyatt came up to discuss the plane's condition.  Built by the Standard Airplane Works of Lincoln, Nebraska, the aircraft was backed by William Malloska, head of the Lincoln Petroleum Company of Flint, Michigan.
Movie stunt flyer Arthur C. Goebel guided his yellow and blue Travelair monoplane down the runway with Navy Lieutenant William V. Davis as his navigator.  Davis was an active duty Navy pilot on 30 days leave from his North Island, San Diego station. He was formerly an Annapolis swimming star.
Taking off next was Honolulu's Martin Jensen in the ALOHA, with Paul Schluter as navigator.
Charles W. Parkhurst's biplane AIRKING was disqualified for insufficient fuel capacity, after much controversy.  Had he gone on, experts estimated he would have run out of fuel about 300 miles short of Oahu.  DALLAS SPIRIT took off at 12:37, flown by Captain William P. Erwin with A. H. Eichwaldt as navigator. Erwin returned because of torn wing fabric.
The PABCO PACIFIC FLYER's tail wheel was repaired and Irving attempted another takeoff. The overloaded plane crashed, smashing one wing.  Pilot and navigator came out unhurt.
Ernie Smith, first civilian to make the flight, rushed up to the MISS DORAN and wished the young passenger good luck. Then the biplane made its way down the grass runway a second time. It drew great applause as it became airborne and headed for the open sea.
Four airplanes were in the race, winging across the Pacific: GOLDEN EAGLE, ALOHA, WOOLAROC and MISS DORAN.  Only the WOOLAROC was equipped with a radio capable of sending and receiving messages (obtained from Ernie Smith, after four other models were turned down).  The GOLDEN EAGLE had a receiving set and, therefore, could take advantage of the radio beam, but the ALOHA and MISS DORAN were forced to rely on compasses and sextants.
Arthur Goebel and Lieutenant Davis made good progress, reporting their position to passing ships along the route. The WOOLAROC had four compasses and a bubble sextant for sun and star observations.  Davis, a capable navigator, had been briefed by B. J. Connell (from the John Rodgers crew) about his experience over the route in 1925.  He laid out the great circle route from San Francisco to Maui, as had been done by Smith and Bronte and Maitland and Hegenberger, allowing the maximum latitude of error on either side of the course. To insure that Bronte's radio headset experience was not repeated on this flight, Davis brought along a spare plus a supply of tubes, batteries and antenna.
Receiving the messages were US Destroyer HAZELWOOD, SS WILHELMINA, SS MANUKAI, among others, with a great deal of clarity.  The plane's radio worked well most of the journey.  Davis was sending on 600 meters with the call sign KGGI.  The radio beam was an invaluable aid to navigation, but Davis worked his navigation as though it didn't exist—using it mostly as a check.
In Honolulu, the following day, the Star Bulletin carried James Dole's statement:
"Hawaii is on the lips of the world today, in the minds of countless millions of people."
"Aviation during this year 1927 has definitely brought our own Hawaiian territory closer than ever before into the consciousness of the whole American people.  Time and distance between Hawaii and the Pacific Coast are magically shortened."
"I feel that this has great practical as well as sentimental value to the people of Hawaii.  Business and commerce, social and civic relations, national and international contacts, are the better served, the more greatly inspired and stimulated."
"There is, I feel, immediate and substantial advertising value to Hawaii, to Hawaii's business, and to Hawaii's resources and products, in giving to many millions of people the picture of the modern American community which can be reached from the Pacific Coast in 24 hours."
"There is also, I feel, a definite stimulus to commercial aviation on the Pacific in the 'Dole Derby.'  It is my hope and belief that the achievements of the trans-Pacific flyers today point to the early establishment of commercial aviation in Hawaii with regular and ample facilities for business and pleasure transportation.  In this spirit of building for Greater Hawaii, I join with my fellow citizens everywhere over the territory in welcoming contestants in this great competition of skill, science and experience, in the conquest of the air."
Reaching across the route to within 450 miles of Oahu, the approximate lighting point of John Rodgers, the Travelair was reported on beam by SS CITY OF LOS ANGELES. Goebel's average altitude was 6,000 feet, well above the persistent clouds which hid their view of the ocean.  Two hundred miles from the oncoming plane, Wahiawa Radio Station—located adjacent to Wheeler Field—received from Davis an estimated arrival time two and half hours hence.  The exciting news was passed on to the thousands amassed at Wheeler and preparations were made to receive the prize winners.  Governor Farrington, race sponsor James Dole, and other prominent officials gathered to do the honors.  Crowds were estimated as between 25,000 and 30,000 people, with almost 10,000 cars on site and two miles along the highway waiting to get in.  Military police were busy handling traffic.  Army planes thrilled the audience with aerial stunts.  Bands played cheerful music.  Hawaiian girls were on hand in native costumes, singing and dancing.  Weather conditions were excellent.
The WOOLAROC's radio transmitter suddenly ceased to operate.  Then the receiver went silent. Davis worked feverishly and, by adding a flashlight battery, was once again able to send out a position report.  Checking over the receiving set, Davis found a broken connection and repaired it.
Soon, Davis sighted a faint outline of the island of Maui.  They had been right on course.  Goebel changed course for Oahu as it and Molokai came into view about 70 miles away.  Goebel recalled that his navigator "started shooting off the Very pistol and dropping smoke bombs all the way across the channel and even after we had passed Diamond Head."
At one point the engine sputtered as if the fuel supply was running out, but it continued to power the Travelair to its destination. Approaching Wheeler Field, Goebel and Davis were greeted in the air by the pilot of a small pursuit plane. The grinning pilot signaled that they were first to arrive. Then additional planes from the Army and Navy joined in a magnificent escort.
When Wheeler appeared underneath, Goebel circled the huge Army base once.  A great cheer came from the crowds when the WOOLAROC was sighted.  Landing after a flight of 26 hours, 17 minutes and 33 seconds, Goebel and Davis were promptly surrounded by officials and spectators. Hawaiian girls garlanded the pair with floral lei in traditional island greeting.  Mrs. Jensen, wife of the ALOHA's pilot, rushed up to inquire of her husband's whereabouts.  But they had no knowledge of the other planes' position.  Mr. Dole announced to all listeners that these were the winners of his first prize.  August 17, 1927 was a momentous day for Hawaii and for the ex-movie flyer and his Navy navigator.
Recalling the event in 1965, Goebel recounted his flying experiences.
"My flying centered mostly in motion picture work and newsreel stunt flying . . . military flying. . . at that time testing the Douglas 02H medium bomber in tail spin recovery."
Goebel referred to Lindbergh's 1927 flight as the "most historical flight of all time and the forerunner of today's commercial aviation."
Enticed into the Dole Air Race, Goebel said: "I arrived at the Travel Air Factory in Wichita, Kansas, and placed an $11,000 deposit on a Travel Air Transport."  On the way to the West Coast with the new plane, Goebel stopped at the home of his backer.  "At that time I gained the greatest friend I ever had in life and it continued until death separated us," he recalled.  "Mr. Phillips developed the greatest lodge and wild game preserve in the nation, consisting of thousands of acres of wood, lakes and rocks.  . . the travel Air Transport took the name WOOLAROC for its great adventure at the christening event in Bartlesville just before take-off for the West Coast."
Arriving at Oakland Airport (the dirt take-off strip on Bay Farm Island), Goebel was joined by Davis.  "Most of our time was taken up with the installation and testing of two-way radio equipment; in fact, the work went into the night hours," Goebel stated.  "We had every means of navigation equipment necessary (for the) undertaking of a flight of that nature, contending against the hazards of sea, sky, distance, and darkness; and the ability to fly by instruments for . . . hours.  There are but two goals, the Hawaiian Islands or the bottom of the Pacific Ocean.  With proper equipment, preparation and practical seasoned skill, the Islands were but 26 hours away."  Goebel continued in aviation, civilian and military, retiring from the Air Force in 1953 as a colonel.
Davis had won the navigator's berth of this flight over Navy Lieutenant W. J. Slattery "by about an hour," three days prior to the originally scheduled take-off date (August 12).  Confident in his own navigation abilities, and respectful for Goebel's skills and nerve as a pilot, Davis was sure of a successful flight.  This was almost cut short, however.  His leave approval arrived too late to permit a flight to Oakland with Covell and Waggener in their plane, which crashed 15 minutes after take-off.  Davis went to San Francisco by train.  Upon arrival at the airport, he saw the PRIDE OF LOS ANGELES crash.
When the WOOLAROC became airborne on the flight, amidst cheers from about 200,000 people, Goebel flew over San Francisco's Market Street at 1,500 feet altitude.  Accompanying photographic and newspaper planes (including one flown by Charles Stoffer) left when they swung into course for Wheeler Field on the island of Hawaii.
"The great help that Lt. Ben H. Wyatt gave all the Dole Race contestants should never be forgotten," Goebel stated.  "In fact, he saved some from loss at sea, if they will just remember as they journey through life." Davis agreed, adding that qualified navigators had no difficulty passing the examination.  "It was a fool-proof test which the unqualified found impossible to pass."
Crowds remained at Wheeler after Goebel's triumphant arrival, heartened by the sight of the WOOLAROC and hoping for the ALOHA to come into view also.
Jensen and his German-born navigator did not fare as well in the air as the first-prize winners. Jensen was not assured of an airplane to fly until five days before taking off because he could find no financial backers.  Then mechanics had insufficient time to install adequate fuel and oil feeding systems.  A hastily installed rig was made in order to get airborne in time, but neither airplane nor crew was disqualified.
Jensen's plane had only a 130 gallon fuel capacity originally, insufficient for such a flight.  For additional fuel, Jensen intended to store 49 five-gallon containers of gasoline within his plane. The in-flight plan was for Schulter to pour gasoline into a central tank and, by use of the hand pump, transfer it to the 50 gallon tank in use when the supply got low.  Messages were to be transferred between the men by means of a pulley and line system.  Jensen was forced to make other arrangements, managing to obtain a 405-gallon total fuel capacity.
Much of the journey was made 10 to 50 feet above the water.  This assured fuel economy but the constant view of the ocean directly underneath, and the fog above, made the flight boring and occasionally frightening for the flyers.  When it came time for the navigator to get bearings from the stars, no sights were made because of dense fog.
Recalling the experience 38 years later, Jensen said:
"I was able to climb to about 4,000 feet.  It was still a dense fog.  Here I experienced vertigo when I was unable to get above the fog."
Three times Jensen tried to get through and ended up in a tailspin each time.  His stunting experience came in handy, for he was able to recognize tailspins and knew how to emerge safely.
The fuel feed system required special attention.  For fear of inadvertently stopping the flow of fuel, Jensen set his engine revolutions at a moderate rate. The usable tank was kept filled by use of the hand wobble pump.  Each time used, excess fuel was pumped overboard.  This caused not only a waste of valuable fuel, but constituted a frightening fire hazard.  Schluter's chain-smoking didn't help.
The ALOHA was almost swallowed by the sea when Jensen inadvertently pushed against the control stick with his body while flying 10 feet above the water.  Fortunately, the sea was calm and the wheels barely struck the water, giving Jensen an opportunity to recover in time.
Jensen recalled, "Flying in the darkness and fog, I was unable to see the water.  I was flying by instruments and depending upon them. The altimeter registered 100 feet above sea level, which was held for hours.  Perhaps the density in mid-Pacific was different.  No doubt, I was five or 10 feet above the water for an hour or more.  I hit the top of a wave and the spray from this ripped a long slit in the stabilizer fabric.  The fact that I never took my hands from the throttle or stick gave me instant control, after which I raised to about 500 feet to continue the long flight."
Five hundred miles from Oahu, then 200, Jensen had to rely on the wobble pump.  The plane was not equipped with a fuel gauge therefore the only way to be assured of fuel in the gravity feed tanks was to fill them to overflowing.  Each time this caused a profuse spillage of fuel.  Once the pair prepared the life raft for a water landing but was surprised to hear the engine continue to purr.
Insofar as winning the race was concerned, Jensen was certain he would have come in first but for the lack of a radio.  Weather conditions were such that he had to circle two and a half hours of valuable time before the navigator could "shoot the sun and get his position."  When they came in to land, one hour and 58 minutes after the WOOLAROC, they had five gallons of gasoline left, enough for about 30 minutes of flying time.
Jensen received a tumultuous greeting when he was sighted, along with the Army aerial escort, proudly coming into Wheeler.  Mrs. Jensen collapsed then recovered to become almost hysterical with joy.  Jensen emerged smiling from his plane, holding a bag of mail for all to see.
When it became obvious the other two contestants were lost, Dole put up a $10,000 reward for anyone finding each of the missing planes.  Sponsors of the GOLDEN EAGLE put up an equal amount for their plane, so did Mr. Malloska for the MISS DORAN.
A huge search party was set up, soon swelling to 42 ships and planes.  The amazing Jensen took off in the ALOHA for a five-hour search over Oahu, Molokai and Maui.  One of the Army planes on search crashed into the sea, killing its two occupants.  The search was to no avail.
Search efforts for the three airplanes continued but they were never found.  Two planes out of five made it safely to Hawaii.  Eleven lives were lost.  The long-awaited passenger and freight service between Hawaii and the mainland appeared farther away than ever.  Interisland service appeared likely, however, if numbers of passengers and cargo capacity could be increased and made economically favorable.
Excerpted from the book Above the Pacific by Lieutenant Colonel William Joseph Horvat, 1966.
Related content