Hanalei Airport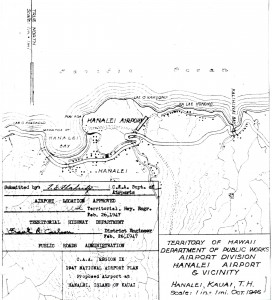 In 1947 the Territorial Superintendent of Public Works proposed building a Class I Airport at Hanalei, Kauai. The airport was proposed primarily for personal flying and for accommodation of small charter planes from Honolulu. The proposed site was in a broad pasture area near the sea just east of Hanalei Bay.
"The surrounding area has no commercial importance but is a popular vacation area possessed of the most beautiful scenery in the Territory," stated a Territorial DPW report. "The permanent population of the area within eight miles of the site is only approximately 2,100.  During past years there have been many proposals with respect to tourist-hotel projects at Hanalei but none has materialized.  It is believed that when the expected resumption of the Territory's tourist trade develops to the predicted extent of two or three-fold prewar volume, Hanalei will be one of the areas that will be most popular.  Flights from Honolulu in the smallest types of twin engine planes would be practicable.  (The channel crossing is beyond a safe range for single engine operation.)
"The combination of Hanalei, Lihue and Port Allen airports would offer a great incentive to personal flying by Kauai residents and by visiting plane owners from Oahu.
"The airport site has the advantage of being well adapted to gradual development.  Army planes have used the area in its present condition and operation by light planes of a public airport at the site would be possible with very little initial expenditure.  The completion of the project could be deferred until civil operations justify added facilities.
"The project is consistent with the plans of certain local flying interests and with the general program of the Hawaii Visitors' Bureau.  At the present time the proposal has been given no recognition by the Territorial government."
The proposal was approved by the CAA Region IX as part of the 1947 National Airport Plan.
There was no further mention of the proposed Hanalei Airport and no funds were ever appropriated for it.