Kaneohe Naval Air Station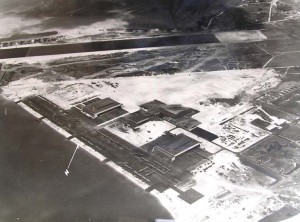 MCB Hawaii Kaneohe Bay is located on the 2,951 acres of the Mokapu Peninsula in Kaneohe Bay.
The U.S. military first established a presence on the peninsula in 1918 when the U.S. Army commissioned Fort Kuwa'aohe Military Reservation on 322 acres on the northeast side of Mokapu. In 1941, this reservation became known as Camp Ulupau; a year later it was redesignated as Fort Hase. Fort Hase became a major unit in the Windward Coastal Military Command and in 1945 was expanded with the addition of 474 acres.
The Army stayed here until August 1940 when the Navy decided to acquire all of Mokapu Peninsula to expand Naval Air Station Kaneohe, a sea plane base it had begun building in September 1939 and would commission on 15 February 1941. Between 1939 and 1943, large sections of Kaneohe Bay were dredged for the dual purposes of deepening the channel for a sea plane runway and extending the western coastline of the peninsula with 280 acres of coral fill.
On Sunday morning, 7 December 1941, two waves of Japanese Imperial Navy aircraft bombed and strafed Kaneohe Naval Air Station, several minutes before Pearl Harbor was attacked. Of the 36 PBY Catalina "flying boats" based here, 27 of 33 on the ground or moored in Kaneohe Bay were destroyed. Only three planes, out on patrol at the time of the attack, escaped and they suffered air-to-air combat damage that fateful day.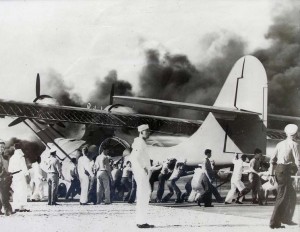 Following repairs, the air station was expanded to include a runway; 14-inch guns from the USS Pennsylvania were brought to Fort Hase to be set atop the edge of Ulupau Crater in the seven-story deep "Battery Pennsylvania" as part of the coastal defense of Windward Oahu.
Marines of the 2nd Division came to the Big Island of Hawaii after the Battle of Tarawa, to regroup and train for Saipan and Tinian. The 5th Marine Division arrived at "Camp Tarawa" soon afterwards to train for the Battle of Iwo Jima, while the 4th Marine Division prepared on Maui for the same destination. Some training also took place on Kauai. Battle survivors would return to Hawaii after those distant island battles, to regroup for the invasion of the Japanese home islands.
After the armistice was signed aboard the USS Missouri in Tokyo Bay on 2 September 1945, thousands of military members of all services began to pass through Pearl Harbor and other military installations in Hawaii, including Kaneohe Naval Air Station, bound for discharge on the U.S. Mainland and return to civilian life.
On 1 April 1946, all Kaneohe NAS residents and workers were evacuated as nearly 25-foot waves from the Alaska tsunami washed over the peninsula, nearly covering the runway and the Fort Hase areas before rapidly receding back to the sea.
In May of 1949, Kaneohe Bay NAS was decommissioned and placed in a maintenance status. All property (except buildings) was transferred to NAS Barbers Point. The Navy put Mokapu Peninsula land up for lease, but no interested parties came forward. By June 1950, only a small security detail remained.
The following year in 1951, the Marine Corps decided that Mokapu Peninsula would make an excellent home for a combined air-ground team, consolidated all landholdings and, in January 1952, commissioned Marine Corps Air Station Kaneohe Bay.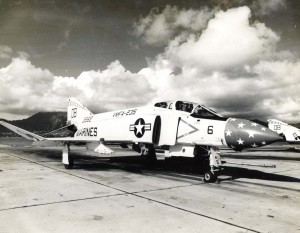 In 1953, the base became the home of the 1st Provisional Marine Air-Ground Task Force.
In April 1994, the Marine Corps consolidated all of its installations in Hawaii, under a single command — Marine Corps Base Hawaii (MCBH).
Later, in October of 1994, the 1st Marine Expeditionary Brigade was officially deactivated. Several of its units remained aboard the base after being redesignated as "III Marine Expeditionary Forces Hawaii."
Terms & Conditions
Please read the following Terms & Conditions of Use carefully before using this website. You are required to expressly accept the following Terms and Conditions of Use, without any modifications, prior to each use of this website. The State of Hawaii Department of Transportation Airport Division (the "HDOTA") may revise the Terms and Conditions of Use without any specific notice to you. The Terms and Conditions of Use posted at the time of your use of this website governs that use. If you do not agree with any part of the following Terms and Conditions of Use, you will not be permitted to use this website.
The images and other content, (the "Media"), on this site, http://aviation.hawaii.gov, are protected under applicable intellectual property laws. Unless otherwise stated, intellectual property rights in the website are administered by HDOTA on behalf of itself and the State of Hawaii.
FOR MEDIA USE PLEASE NOTE:
You are prohibited from using the Media for any commercial purpose. Any use, whether or not commercial, that may tend to degrade, tarnish the reputation of, or embarrass the content creator (photographer, videographer etc.), the State of Hawaii, or HDOTA is strictly prohibited.
FOR ALL USE:
The following are general examples of what Media may not be used for or in connection with. The following list is not exhaustive.
Taking or attempting to take Media for commercial, marketing, self-promotion, or novelty applications;
Taking or attempting to take any action that results in editing or altering images -cropping is acceptable;
Taking or attempting to take any action that compromises the website;
Taking or attempting to take any action that involves reprinting on coffee table books, garments, posters, mugs, or any medium.
You agree that, upon notice from HDOTA, you will immediately cease all use of the Media and, to the extent possible, remove all Media from any and all materials in which they appear.
Credit is required for each of the Media as specified on this website. Credit must be placed adjacent to any use of the Media.
You, your successors and assigns, agree to release, indemnify and defend HDOTA and the State of Hawaii from and against all costs, liability, loss, damage, and expense, including all attorneys' fees, and all claims, suits, and demands therefor, arising out of or resulting from your acts or omissions under these Terms & Conditions of Use and your use of the Media.