Hilo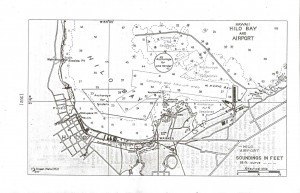 Source: Naval Air Pilot, 1936.
DESCRIPTION:
Location: The Hilo Bay Seaplane Anchorage is located within the harbor under the lee of the breakwater.  (Lat. 19o44'30" N., long. 155o04'00" W.)
Depths: 6 to 46 feet.
Tidal range: 1.6 feet.
Character of bottom: Hard.
Currents: Weak.
Shelter: Protected anchorage for about 50 VP-type seaplanes is available under all conditions of wind and weather.
Importance: Good advance base for the operation of about 50 VP-type seaplanes.  Hilo is the second in commerical importance and population of the cities of the Hawaiian Islands.
LANDING & TAKE OFF AREA
Location: Hilo Bay.
Area: NE./SW., 1 mile; E./W., 1 mile.
Shelter: There is sufficient room under normal full load conditions for both day and night operations.  Take off under overload conditions for long distance flights is questionable.  Outer bay is exposed to the northeast trades.
Obstructions: Harbor buoys.  Ground swells in entrance to harbor.  No high hills in the immediate vicinity of the harbor which itnerfere with landing and take-off.  Large fleet of fishing sampans operates in the outer bay; the movements of these boats are uncertain.
FACILITIES
Limited quantities of aviation gasoline adn oil available, by ;making advance arrangements with the harbor authorities through the commandant; 14th Naval District machine shops are available where minor repairs could be made.  No drydocks or large marine railways.
Beach: No seaplane beach available.  Plans must be serviced by boats or from a tender.
Communications: Radio station, call letters KLN.  United States Navy radio station, call letters, NPH inoperative.
GENERAL INFORMATION
Meteorological Conditions: Practically any schedule of operations can be carried out between the first of April and the middle of November.  Between the middle of November and the end of March, frequent interruptions or delays in aircraft operation schedules may be expected; these delays normally should not last more than 2 or 3 days.
Terms & Conditions
Please read the following Terms & Conditions of Use carefully before using this website. You are required to expressly accept the following Terms and Conditions of Use, without any modifications, prior to each use of this website. The State of Hawaii Department of Transportation Airport Division (the "HDOTA") may revise the Terms and Conditions of Use without any specific notice to you. The Terms and Conditions of Use posted at the time of your use of this website governs that use. If you do not agree with any part of the following Terms and Conditions of Use, you will not be permitted to use this website.
The images and other content, (the "Media"), on this site, http://aviation.hawaii.gov, are protected under applicable intellectual property laws. Unless otherwise stated, intellectual property rights in the website are administered by HDOTA on behalf of itself and the State of Hawaii.
FOR MEDIA USE PLEASE NOTE:
You are prohibited from using the Media for any commercial purpose. Any use, whether or not commercial, that may tend to degrade, tarnish the reputation of, or embarrass the content creator (photographer, videographer etc.), the State of Hawaii, or HDOTA is strictly prohibited.
FOR ALL USE:
The following are general examples of what Media may not be used for or in connection with. The following list is not exhaustive.
Taking or attempting to take Media for commercial, marketing, self-promotion, or novelty applications;
Taking or attempting to take any action that results in editing or altering images -cropping is acceptable;
Taking or attempting to take any action that compromises the website;
Taking or attempting to take any action that involves reprinting on coffee table books, garments, posters, mugs, or any medium.
You agree that, upon notice from HDOTA, you will immediately cease all use of the Media and, to the extent possible, remove all Media from any and all materials in which they appear.
Credit is required for each of the Media as specified on this website. Credit must be placed adjacent to any use of the Media.
You, your successors and assigns, agree to release, indemnify and defend HDOTA and the State of Hawaii from and against all costs, liability, loss, damage, and expense, including all attorneys' fees, and all claims, suits, and demands therefor, arising out of or resulting from your acts or omissions under these Terms & Conditions of Use and your use of the Media.