Lt. Harold Geiger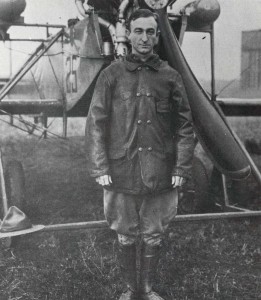 The first military airplanes and aviation personnel arrived in Honolulu on July 13, 1913. First Lieutenant Harold E. Geiger, U.S. Army, brought with him 12 enlisted men and a civilian engine technician named George Purington. They had been transferred from the Army's first permanent flying training center, Glenn Curtiss' San Diego flying school. The group was under orders to set up a flying school in Hawaii; another was set up in the Philippines. With them were two seaplanes, S.C. No. 87, a Curtiss E two-seater, dual control trainer; and S.C. No. 21, a Curtis G, fuselage tractor (propeller in front of the pilot). They also brought along a supply of spare parts, machinery, tents, and other equipment.
Geiger and his men arrived at Schofield Barracks (the directed site) in time to watch Tom Gunn's performance. They flooded him with questions. The inland facility was unsuited for seaplane operation so Geiger set up operations at Fort Kamehameha, at the entrance to Pearl Harbor. The ancient fort is named after the Royal family of Hawaii and in honor of its first king. It came under U.S. control with Hawaii's annexation (1898) to guard Pearl Harbor.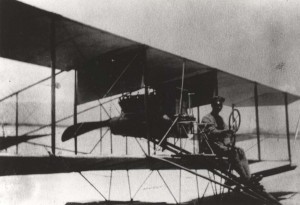 Fort Kamehameha appeared to be an excellent location, but Geiger soon found a safety problem. He could only fly during high tides. 1910s Lt. Geiger 01To make matters worse, the strong winds ripped and toppled his tent hangars. The group settled in, neverthe-less.
One day, Geiger made a flight from Pearl Harbor to Diamond Head at the "incredible" speed of 60 mph. The demonstration hinted that airplanes could become useful supplements to garrisons and ships, adding considerably to Hawaii's defense posture. But treacherous winds made long flights difficult. All regular flight activity was curtailed and the airplanes were banned from participating in maneuvers by the Army commander in Hawaii.
After only four months the unit was disbanded and returned to the mainland (November, 1913). Geiger transferred to lighter-than-air activities, subsequently becoming one of America's top dirigible experts of World War I. Geiger died in a crash during 1927.
Standing in memory of this pioneer Army flyer is Geiger Air Force Base near Spokane, Washington.
Excerpted from the book Above the Pacific by Lieutenant Colonel William Joseph Horvat, 1966.
Related content
Army Aviators Soon to Fly Article from the Commercial Advertiser 1919.
Army Planes Here for Duty Reprinted from the Commercial Advertiser July 14, 1919.
Photos of Lt. Geiger
Terms & Conditions
Please read the following Terms & Conditions of Use carefully before using this website. You are required to expressly accept the following Terms and Conditions of Use, without any modifications, prior to each use of this website. The State of Hawaii Department of Transportation Airport Division (the "HDOTA") may revise the Terms and Conditions of Use without any specific notice to you. The Terms and Conditions of Use posted at the time of your use of this website governs that use. If you do not agree with any part of the following Terms and Conditions of Use, you will not be permitted to use this website.
The images and other content, (the "Media"), on this site, http://aviation.hawaii.gov, are protected under applicable intellectual property laws. Unless otherwise stated, intellectual property rights in the website are administered by HDOTA on behalf of itself and the State of Hawaii.
FOR MEDIA USE PLEASE NOTE:
You are prohibited from using the Media for any commercial purpose. Any use, whether or not commercial, that may tend to degrade, tarnish the reputation of, or embarrass the content creator (photographer, videographer etc.), the State of Hawaii, or HDOTA is strictly prohibited.
FOR ALL USE:
The following are general examples of what Media may not be used for or in connection with. The following list is not exhaustive.
Taking or attempting to take Media for commercial, marketing, self-promotion, or novelty applications;
Taking or attempting to take any action that results in editing or altering images -cropping is acceptable;
Taking or attempting to take any action that compromises the website;
Taking or attempting to take any action that involves reprinting on coffee table books, garments, posters, mugs, or any medium.
You agree that, upon notice from HDOTA, you will immediately cease all use of the Media and, to the extent possible, remove all Media from any and all materials in which they appear.
Credit is required for each of the Media as specified on this website. Credit must be placed adjacent to any use of the Media.
You, your successors and assigns, agree to release, indemnify and defend HDOTA and the State of Hawaii from and against all costs, liability, loss, damage, and expense, including all attorneys' fees, and all claims, suits, and demands therefor, arising out of or resulting from your acts or omissions under these Terms & Conditions of Use and your use of the Media.