Major Harold Clark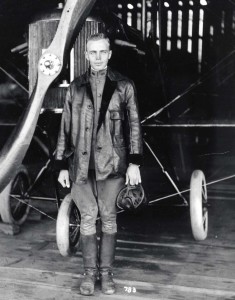 Major Harold M. Clark Jr. became Army Department Aviation Officer in November, 1917. A Herculean construction effort was initiated at the new Army air base. Before long, Ford Island had two double seaplane hangars with concrete ramps, two wooden land plane hangars, one small motor repair and machine shop, and a supply warehouse. In the center to the south end a narrow strip of land was cleared for land plane operation. By this time, the 6th's strength increased to 10 officers.
Six months after his arrival on May 9, 1918, Clark took off with Sergeant Robert P. Gay on the first interisland flight in the Hawaiian Islands.
They flew from Fort Kamehameha to the island of Maui where a huge reception awaited the pair. From Maui, Clark made for the island of Hawaii flying at an altitude of 8,000 feet. Nearing Hawaii's coastline, Clark encountered thick cloud formations and promptly lost his bearings. Darkness added to his worries, so the Army flyer decided to land quickly. His airplane crashed on the slope of Mauna Kea, the highest point in the Hawaiian chain.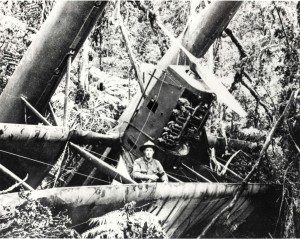 Upon impact the seaplane crumpled and gasoline spewed onto him from the broken tank. Clark became completely drenched in fuel. Unhurt, pilot and mechanic found themselves in a jungle-like brush with no civilization in sight. Hoping to draw attention to their location, the pair set a fire some distance away from the wreckage, using the Very flare pistol for ignition. No rescuers came, so they started to walk out. After two days and two nights, entirely without food, the Army flyers reached safety.
The feat by Major Clark was covered in bold headlines in Honolulu newspapers, hailed as the beginning of advanced aviation in the islands despite the disastrous results. A short period later, three Army flyers followed the pioneer venture with an interisland flight which incited the interest of local businessmen.
Excerpted from the book Above the Pacific by Lieutenant Colonel William Joseph Horvat, 1966.
Related content
Flight of the R-6 Recount of the first interisland flight.
Terms & Conditions
Please read the following Terms & Conditions of Use carefully before using this website. You are required to expressly accept the following Terms and Conditions of Use, without any modifications, prior to each use of this website. The State of Hawaii Department of Transportation Airport Division (the "HDOTA") may revise the Terms and Conditions of Use without any specific notice to you. The Terms and Conditions of Use posted at the time of your use of this website governs that use. If you do not agree with any part of the following Terms and Conditions of Use, you will not be permitted to use this website.
The images and other content, (the "Media"), on this site, http://aviation.hawaii.gov, are protected under applicable intellectual property laws. Unless otherwise stated, intellectual property rights in the website are administered by HDOTA on behalf of itself and the State of Hawaii.
FOR MEDIA USE PLEASE NOTE:
You are prohibited from using the Media for any commercial purpose. Any use, whether or not commercial, that may tend to degrade, tarnish the reputation of, or embarrass the content creator (photographer, videographer etc.), the State of Hawaii, or HDOTA is strictly prohibited.
FOR ALL USE:
The following are general examples of what Media may not be used for or in connection with. The following list is not exhaustive.
Taking or attempting to take Media for commercial, marketing, self-promotion, or novelty applications;
Taking or attempting to take any action that results in editing or altering images -cropping is acceptable;
Taking or attempting to take any action that compromises the website;
Taking or attempting to take any action that involves reprinting on coffee table books, garments, posters, mugs, or any medium.
You agree that, upon notice from HDOTA, you will immediately cease all use of the Media and, to the extent possible, remove all Media from any and all materials in which they appear.
Credit is required for each of the Media as specified on this website. Credit must be placed adjacent to any use of the Media.
You, your successors and assigns, agree to release, indemnify and defend HDOTA and the State of Hawaii from and against all costs, liability, loss, damage, and expense, including all attorneys' fees, and all claims, suits, and demands therefor, arising out of or resulting from your acts or omissions under these Terms & Conditions of Use and your use of the Media.