Marguerite Gambo Woods
Hawaii produced numerous aviatrixes in the 1930s, under instruction of Olen Andrew, Paul I. Gunn, Robert L. Tyce, Charles B. Knox, and Edward L. Peacock, in particular. The most notable was Marguerite Gambo (later Wood), who began to fly occasionally in 1932 with Peacock, and in 1937 was sent by Tyce on her first solo in a Kinner Fleet. Gunn provided the lady flyer with advanced training and soon she was rated a commercial pilot. In 1938 she participated in flying events, giving stunting exhibitions.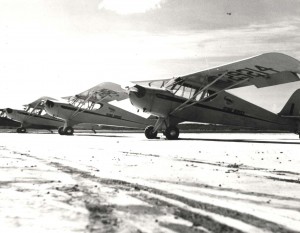 By 1939, the aviatrix established Gambo Flying Service at John Rodgers Airport to meet demands by young men for flying training, a number of whom were primarily interested in interisland jobs and preparation for the eventuality of war. The Gambo hangar was the first privately built facility at the airport, adjacent to that of Inter-Island Airways. Flourishing rapidly in an aviation-minded community, the school produced aviators who later went on to distinguished duty in the armed forces. Gambo, Andrew, Knox and Tyce's K-T Flyers were busy with private flying activities.
On December 7, 1941, Marguerite Gambo was flying with a student on a cross-country trip. Seeing what was occurring, she went through a seldom-used pass and landed safely. Four Gambo planes were in the air that day, two failed to return.
Excerpted from the book Above the Pacific by Lieutenant Colonel William Joseph Horvat, 1966.
Terms & Conditions
Please read the following Terms & Conditions of Use carefully before using this website. You are required to expressly accept the following Terms and Conditions of Use, without any modifications, prior to each use of this website. The State of Hawaii Department of Transportation Airport Division (the "HDOTA") may revise the Terms and Conditions of Use without any specific notice to you. The Terms and Conditions of Use posted at the time of your use of this website governs that use. If you do not agree with any part of the following Terms and Conditions of Use, you will not be permitted to use this website.
The images and other content, (the "Media"), on this site, http://aviation.hawaii.gov, are protected under applicable intellectual property laws. Unless otherwise stated, intellectual property rights in the website are administered by HDOTA on behalf of itself and the State of Hawaii.
FOR MEDIA USE PLEASE NOTE:
You are prohibited from using the Media for any commercial purpose. Any use, whether or not commercial, that may tend to degrade, tarnish the reputation of, or embarrass the content creator (photographer, videographer etc.), the State of Hawaii, or HDOTA is strictly prohibited.
FOR ALL USE:
The following are general examples of what Media may not be used for or in connection with. The following list is not exhaustive.
Taking or attempting to take Media for commercial, marketing, self-promotion, or novelty applications;
Taking or attempting to take any action that results in editing or altering images -cropping is acceptable;
Taking or attempting to take any action that compromises the website;
Taking or attempting to take any action that involves reprinting on coffee table books, garments, posters, mugs, or any medium.
You agree that, upon notice from HDOTA, you will immediately cease all use of the Media and, to the extent possible, remove all Media from any and all materials in which they appear.
Credit is required for each of the Media as specified on this website. Credit must be placed adjacent to any use of the Media.
You, your successors and assigns, agree to release, indemnify and defend HDOTA and the State of Hawaii from and against all costs, liability, loss, damage, and expense, including all attorneys' fees, and all claims, suits, and demands therefor, arising out of or resulting from your acts or omissions under these Terms & Conditions of Use and your use of the Media.