Aloha Airlines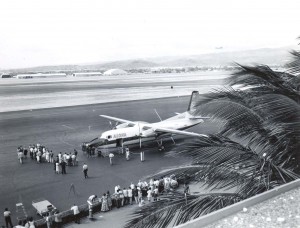 In 1946, the Trans-Pacific Airlines (later renamed Aloha Airlines) was begun in Honolulu by Ruddy F. Tongg.  Starting with 14 employees, the charter service began with a DC-3 equipped with "bucket seats," in competition with Hawaiian Airlines. The new company offered special appeal with in-flight entertainment featuring singing, hula dancing, and ukulele playing stewardesses.
By 1949, in spite of legal difficulties, the local interisland flying service received its temporary certificate as a scheduled carrier.  Olen Andrew became chief pilot and took charge of all flight operations.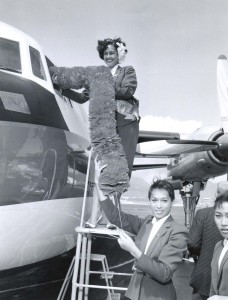 A family plan service was established in 1950, followed later by discount fares.  Japanese speaking tour conductors and stewardesses were hired to accord its passengers from Japan service and typical island hospitality.
President Eisenhower signed Aloha's permanent certificate on July 20, 1956.  At the time it was operating five DC-3s.
Having arranged for Aloha's purchase of Rolls-Royce powered F-27 jet–props, Olen Andrew returned to active flying in the new airplanes in 1959.  Two Vickers Viscounts were placed into service in June, 1963, and a third early in 1964.
Excerpted from the book Above the Pacific by Lieutenant Colonel William Joseph Horvat, 1966.
Terms & Conditions
Please read the following Terms & Conditions of Use carefully before using this website. You are required to expressly accept the following Terms and Conditions of Use, without any modifications, prior to each use of this website. The State of Hawaii Department of Transportation Airport Division (the "HDOTA") may revise the Terms and Conditions of Use without any specific notice to you. The Terms and Conditions of Use posted at the time of your use of this website governs that use. If you do not agree with any part of the following Terms and Conditions of Use, you will not be permitted to use this website.
The images and other content, (the "Media"), on this site, http://aviation.hawaii.gov, are protected under applicable intellectual property laws. Unless otherwise stated, intellectual property rights in the website are administered by HDOTA on behalf of itself and the State of Hawaii.
FOR MEDIA USE PLEASE NOTE:
You are prohibited from using the Media for any commercial purpose. Any use, whether or not commercial, that may tend to degrade, tarnish the reputation of, or embarrass the content creator (photographer, videographer etc.), the State of Hawaii, or HDOTA is strictly prohibited.
FOR ALL USE:
The following are general examples of what Media may not be used for or in connection with. The following list is not exhaustive.
Taking or attempting to take Media for commercial, marketing, self-promotion, or novelty applications;
Taking or attempting to take any action that results in editing or altering images -cropping is acceptable;
Taking or attempting to take any action that compromises the website;
Taking or attempting to take any action that involves reprinting on coffee table books, garments, posters, mugs, or any medium.
You agree that, upon notice from HDOTA, you will immediately cease all use of the Media and, to the extent possible, remove all Media from any and all materials in which they appear.
Credit is required for each of the Media as specified on this website. Credit must be placed adjacent to any use of the Media.
You, your successors and assigns, agree to release, indemnify and defend HDOTA and the State of Hawaii from and against all costs, liability, loss, damage, and expense, including all attorneys' fees, and all claims, suits, and demands therefor, arising out of or resulting from your acts or omissions under these Terms & Conditions of Use and your use of the Media.