Teal
TEAL (Tasman Empire Airways, Ltd.) was registered in Wellington as a limited liability company in April 1940. Its original holdings were New Zealand Government 20%, Union Airways 19%, BOAC 38% and Qantas 23%.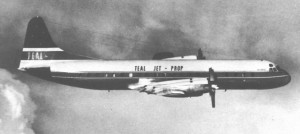 TEAL started operations with an Auckland-Sydney flying boat service in 1940, Auckland to Fiji in 1950, extending the following year to Tahiti via Western Samoa. Exercising reciprocal rights, Pan American sent its airplanes through Auckland. TEAL was originally owned by three governments: New Zealand (30%), United Kingdom (20%) and Australia (50%).
In 1953, the Australian government took over the British government's interest, concurrently with the liquidation of BCPA.
In April 1961, the New Zealand government agreed to purchase Australia's half share in TEAL making New Zealand the sole owner of the airline in its 21st year of operation.
TEAL changed its name to Air New Zealand in April 1965.
1960s HNL 132Jet service between Auckland and Los Angeles by way of Honolulu with DC-8 aircraft began in December 1965. Air NZ opened an office in Honolulu.
Other highlights:
July 1966: AKL-HNL(direct) -LAX
April 1971: Now 4 services per week AKL-HNL-LAX (plus one via Nadi & HNL )
Sept 1972: Now daily service AKL-HNL-LAX
Apr 1975: NZ-LAX service from CHC via AKL,Nadi and HNL
Sept 1978: Frst DC10 AKL-RAR-HNL-LAX service
1985: First Boeing 747 aicraft operated into HNL en route to LAX
1989: First Boeing 767 aircraft operated into HNL (AKL-Nadi-HNL service) making total of eleven long haul aircaft into the Pacific ports weekly
1994: Additional B767 services into HNL from SYD and MEL via AKL
1995: Commence codeshare flights with Polynesian Airlines from Apia to HNL using Air NZ aircraft
Source: Air New Zealand
Terms & Conditions
Please read the following Terms & Conditions of Use carefully before using this website. You are required to expressly accept the following Terms and Conditions of Use, without any modifications, prior to each use of this website. The State of Hawaii Department of Transportation Airport Division (the "HDOTA") may revise the Terms and Conditions of Use without any specific notice to you. The Terms and Conditions of Use posted at the time of your use of this website governs that use. If you do not agree with any part of the following Terms and Conditions of Use, you will not be permitted to use this website.
The images and other content, (the "Media"), on this site, http://aviation.hawaii.gov, are protected under applicable intellectual property laws. Unless otherwise stated, intellectual property rights in the website are administered by HDOTA on behalf of itself and the State of Hawaii.
FOR MEDIA USE PLEASE NOTE:
You are prohibited from using the Media for any commercial purpose. Any use, whether or not commercial, that may tend to degrade, tarnish the reputation of, or embarrass the content creator (photographer, videographer etc.), the State of Hawaii, or HDOTA is strictly prohibited.
FOR ALL USE:
The following are general examples of what Media may not be used for or in connection with. The following list is not exhaustive.
Taking or attempting to take Media for commercial, marketing, self-promotion, or novelty applications;
Taking or attempting to take any action that results in editing or altering images -cropping is acceptable;
Taking or attempting to take any action that compromises the website;
Taking or attempting to take any action that involves reprinting on coffee table books, garments, posters, mugs, or any medium.
You agree that, upon notice from HDOTA, you will immediately cease all use of the Media and, to the extent possible, remove all Media from any and all materials in which they appear.
Credit is required for each of the Media as specified on this website. Credit must be placed adjacent to any use of the Media.
You, your successors and assigns, agree to release, indemnify and defend HDOTA and the State of Hawaii from and against all costs, liability, loss, damage, and expense, including all attorneys' fees, and all claims, suits, and demands therefor, arising out of or resulting from your acts or omissions under these Terms & Conditions of Use and your use of the Media.