United Air Lines
United Air Lines' Honolulu service was initiated on May 1, 1947. That year, the average passengers carried on this route (total of both directions) was 2,100 per month. In 1964, the monthly average was 33,100. For the period May 1, 1947, through August 31, 1964, 1,917,749 passengers were carried on the Honolulu route alone.
The cargo-carried monthly average (also total of both directions) went from 36,500 pounds in 1947 to 787,000 in 1964, totaling for the period May 1, 1947, through July 31, 1964, a total of 45,985,000 pounds.
When United Air Lines inaugurated Stratocruiser service from Hawaii to the mainland in 1950, Honolulu was linked directly with 87 mainland cities. In November, 1964, UAL installed in-flight movies for ocean-overflying passengers.
From the mid-1960s through 2006, United expanded its Hawaii service with larger aircraft, with flights to the outlying islands and with daily service to Honolulu from Osaka and Tokyo.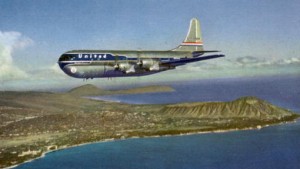 In the 1960s, United was operating DC-8s to Hawaii and was continuing to set industry records for the longest flights in the United States.
On August 1, 1969 United launched nonstop Chicago-Honolulu service with a DC8-62 aircraft, and on October 1, 1969 inaugurated its nonstop 4,979-mile New York-Honolulu service–the longest U.S. domestic route at the time.
United Air at HNLDuring the 1970s, United began flying larger aircraft to Hawaii, including Boeing 747-100s and DC-8-71s.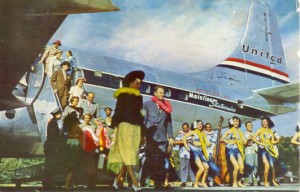 In the early 1980s, United brought in DC-10s, and began launching nonstop flights from the mainland to Maui, Hilo on the Big Island and Lihue. Boeing 757, 767-300 and 777 aircraft eventually joined its Hawaii service.
And in 2000, United initiated the industry's first Boeing 777 service between the U.S. mainland and Hawaii, with nonstop service between San Francisco and Maui.
By continually increasing the size of aircraft on its Pacific routes, United was able to boost passenger numbers. In 2005, United flew 1.7 million passengers and 99 million tons of cargo to the Pacific state.
By 2006, its 59th year of service to Hawaii, United was flying there nonstop from six U.S. Mainland cities, including San Diego, Seattle, San Francisco, Los Angeles, Denver and Chicago.
Terms & Conditions
Please read the following Terms & Conditions of Use carefully before using this website. You are required to expressly accept the following Terms and Conditions of Use, without any modifications, prior to each use of this website. The State of Hawaii Department of Transportation Airport Division (the "HDOTA") may revise the Terms and Conditions of Use without any specific notice to you. The Terms and Conditions of Use posted at the time of your use of this website governs that use. If you do not agree with any part of the following Terms and Conditions of Use, you will not be permitted to use this website.
The images and other content, (the "Media"), on this site, http://aviation.hawaii.gov, are protected under applicable intellectual property laws. Unless otherwise stated, intellectual property rights in the website are administered by HDOTA on behalf of itself and the State of Hawaii.
FOR MEDIA USE PLEASE NOTE:
You are prohibited from using the Media for any commercial purpose. Any use, whether or not commercial, that may tend to degrade, tarnish the reputation of, or embarrass the content creator (photographer, videographer etc.), the State of Hawaii, or HDOTA is strictly prohibited.
FOR ALL USE:
The following are general examples of what Media may not be used for or in connection with. The following list is not exhaustive.
Taking or attempting to take Media for commercial, marketing, self-promotion, or novelty applications;
Taking or attempting to take any action that results in editing or altering images -cropping is acceptable;
Taking or attempting to take any action that compromises the website;
Taking or attempting to take any action that involves reprinting on coffee table books, garments, posters, mugs, or any medium.
You agree that, upon notice from HDOTA, you will immediately cease all use of the Media and, to the extent possible, remove all Media from any and all materials in which they appear.
Credit is required for each of the Media as specified on this website. Credit must be placed adjacent to any use of the Media.
You, your successors and assigns, agree to release, indemnify and defend HDOTA and the State of Hawaii from and against all costs, liability, loss, damage, and expense, including all attorneys' fees, and all claims, suits, and demands therefor, arising out of or resulting from your acts or omissions under these Terms & Conditions of Use and your use of the Media.